Posts for: February, 2019
By Randi C. Lempert, DMD
February 19, 2019
A toothache might mean you have tooth decay—or maybe not. It could also be a sign of other problems that will take a dental exam to uncover. But we can get some initial clues about the underlying cause from how much it hurts, when and for how long it hurts and where you feel the pain most.
Let's say, for instance, you have a sharp pain while consuming something cold or hot, but only for a second or two. This could indicate isolated tooth decay or a loose filling. But it could also mean your gums have receded and exposed some of the tooth's hypersensitive root surface.
While over-aggressive brushing can be the culprit, gum recession is most often caused by periodontal (gum) disease. Untreated, this bacterial infection triggered by accumulated dental plaque could eventually cause tooth and bone loss, so the sooner it's attended to the better.
On the other hand, if the pain seems to linger after encountering hot or cold foods and liquids, or you have a continuous throbbing pain, you could have advanced tooth decay that's entered the inner pulp where infected tooth nerves are reacting painfully. If so, you may need a root canal treatment to remove the diseased pulp tissue and fill the empty pulp and root canals to prevent further infection.
If you have this kind of pain, see a dentist as soon as possible, even if the pain stops. Cessation of pain may only mean the nerves have died and can no longer transmit pain; the infection, on the other hand, is still active and will continue to advance to the roots and bone.
Tooth pain could also indicate other situations: a cracked tooth, an abscess or even a sinus problem where you're feeling the pain radiating through the teeth. So whatever kind of pain you're feeling, it's your body's alarm signal that something's wrong. Promptly seeing your dentist is the best course of action for preserving your health.
If you would like more information on treating tooth pain, please contact us or schedule an appointment for a consultation. You can also learn more about this topic by reading the Dear Doctor magazine article "Tooth Pain? Don't Wait!"
By Randi C. Lempert, DMD
February 09, 2019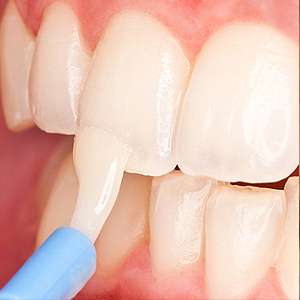 We've known for decades that fluoride strengthens tooth enamel and lowers the risk for decay. And while adding it to toothpaste and drinking water are the more common ways for getting it into the body, an increasingly popular way—especially for children—is to apply fluoride directly to the teeth.
But is topical fluoride really worth the effort and expense? And, are there any side effects to treating teeth this way?
As to the first question, researchers have performed numerous studies measuring fluoride's effectiveness for preventing tooth decay. The Cochrane Oral Health Research Group recently reviewed studies on topical fluoride applications involving nearly 10,000 children and adolescents between the ages of 2 and 15. The combined average for all the studies showed a 28% reduction in decayed teeth for patients who received topical fluoride compared to those who didn't.
This was especially true for children at high risk for decay: directly applying fluoride gels, foams or varnishes to teeth reduces that risk substantially. But there are also side effects to this application. Fluoride in general has only one known safety concern, a condition known as fluorosis. Too much fluoride over time can cause heavy discoloration of the teeth. This does not affect the health of the teeth, but it can look unattractive and require cosmetic treatment to reduce its effect.
There's little to no risk for fluorosis with the controlled treatments offered by dentists; the fluoride solution remains on the teeth no more than a few minutes. But there is a possible side effect during treatment due to the relatively high dose of fluoride used. If the patient accidentally swallows some of the solution, the concentration of fluoride can cause stomach upset, vomiting or headaches.
Dentists minimize the chances for this by usually using the more difficult to swallow varnish form of topical fluoride on younger patients, and using trays or other barrier devices to isolate the fluoride solution from the rest of the mouth. Under professional supervision, it's rare for an accidental ingestion to occur.
The risks for these side effects are quite low, and the benefits of topical fluoride for reducing the chances for decay can more than outweigh them. Fluoride applications are one of many ways we can protect your child's current and future dental health.
If you would like more information on decay prevention techniques like topical fluoride, please contact us or schedule an appointment for a consultation. You can also learn more about this topic by reading the Dear Doctor magazine article "Fluoride Gels Reduce Decay."