Posts for tag: cosmetic dentistry
By Randi C. Lempert, DMD
January 30, 2019
Porcelain veneers are positive proof that unattractive teeth don't always require an intensive restoration to regain their beauty. These thin layers of translucent porcelain — custom-designed and color-matched to blend with your other teeth — are permanently bonded to the visible side of your front teeth.
Although they can't remedy every tooth defect, they're well suited for mild to moderate disfigurements like chipping, staining or gaps. There are now two types of porcelain veneers: the traditional veneer and the "no-prep" veneer.
The standard veneers require some tooth structure removal, referred to as "tooth preparation." This is because although they're a millimeter or less in thickness, they can still appear bulky if bonded to an unprepared tooth. To accommodate their width, it's necessary to remove some of the tooth enamel. This permanently alters the tooth so that it will need some form of restoration from that time on.
In recent years, however, other veneer options have emerged that reduces — or even eliminates — this tooth alteration. No-prep veneers are so thin they can be applied to a tooth with virtually no preparation. A more common option, minimal-prep, requires only a minor reshaping with an abrasive tool to ensure the fitted veneer looks as natural as possible. Because of their thinness, these veneers also don't have to fit under the gum line like standard veneers.
To obtain no- or minimal-prep veneers, your tooth enamel needs to be in good, healthy shape. They're also best suited for people with small or worn teeth, narrow smiles (the side teeth can't be seen from the front), or slightly stained or misshapen teeth.
Because there's little invasiveness, these low preparation veneers won't typically create tooth sensitivity and they can often be applied without any form of anesthesia. And because tooth structure isn't removed, they can be "uninstalled" to return to your natural look. Of course, that's not always an easy process since the bonding between veneer and the enamel is quite strong, although today's lasers can be used to detach the veneer quite easily.
If you'd like to consider these minimally invasive veneers, talk with your dentist. If you're a good candidate, you may be able to gain a new smile without much change to your natural teeth.
If you would like more information on how veneers can change your smile, please contact us or schedule an appointment for a consultation. You can also learn more about this topic by reading the Dear Doctor magazine article "No-Prep Porcelain Veneers."
By Randi C. Lempert, DMD
June 14, 2018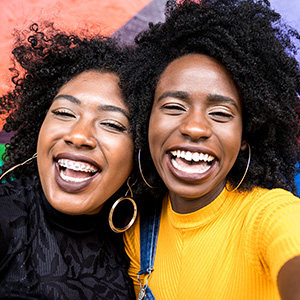 June is the month when lots of important events happen—like weddings, graduations, and family get-togethers. When the weather turns balmy and the days get longer, it's the perfect time for a celebration…and today it's easier than ever to capture those special moments in pictures that will be treasured for years to come. Are you ready for your close-up?
Both professional photographers and dentists want to help you look your best when you're smiling for the camera. Here are a few suggestions from both kinds of pros for capturing a great-looking smile.
Tilt your head just a bit
Instead of looking straight at the camera, try turning or tilting your head slightly. This often presents a more flattering angle, and can hide small facial asymmetries. If your face has a "good side" (you can check by looking in a mirror), be sure to make it visible. But even if your head is tilted or turned, your eyes should be looking at the camera.
Moisten teeth before the shutter clicks
A sparkly smile is the most appealing one. Just before the picture is snapped, run your tongue over your teeth to give them a little extra shine. Highlights in the teeth, lips and eyes add liveliness to your portrait.
Relax—Don't clench your teeth!
It's better to smile naturally—perhaps with teeth slightly parted, or lips in a more relaxed position—than to force yourself to make an artificial-looking grin. Try recalling things that make you joyful, or think of people you care about, and chances are your natural smile will shine out.
Have your teeth professionally cleaned at the dental office
Before the big event, you can ensure that your smile looks its best with a professional cleaning at our office. This treatment removes layers of plaque and tartar on visible tooth surfaces, as well as between teeth and under the gumline. It not only makes teeth look their best, but it's also an effective way to fight tooth decay and gum disease. And while you're here, it's the perfect time to talk about any cosmetic issues that may be troubling you about your smile. With treatments like teeth whitening, cosmetic bonding or dental veneers, we can help you get the smile you've always wanted.
If you would like more information about professional teeth cleaning or cosmetic dentistry, please call our office to schedule a consultation.
By Randi C. Lempert, DMD
December 11, 2016
When planning for your new smile, we look at more than the condition of individual teeth. We also step back for the bigger "bite" picture: how do the teeth look and interact with each other?
If we have a normal bite, our teeth are aligned symmetrically with each other. This not only looks aesthetically pleasing with the rest of the face, it also contributes to good function when we chew food. A bad bite (malocclusion) disrupts this mouth-to-face symmetry, impairs chewing and makes hygiene and disease prevention much more difficult.
That's where orthodontics, the dental specialty for moving teeth, can work wonders. With today's advanced techniques, we can correct even the most complex malocclusions — and at any age. Even if your teen years are well behind you, repairing a bad bite can improve both your smile and your dental health.
The most common approach, of course, is braces. They consist of metal or plastic brackets bonded to the outside face of the teeth with a thin metal wire laced through them. The wire attaches to an anchorage point, the back teeth or one created with other appliances, and placed under tension or pressure. The gradual increasing of tension or pressure on the teeth will move them over time.
 Braces are versatile and quite effective, but they can be restrictive and highly noticeable. Many people, especially older adults, feel embarrassed to wear them. There is an alternative: clear aligners. These are a series of clear, plastic trays that you wear in sequence, a couple of weeks for each tray. When you change to the next tray in the series, it will be slightly different than its predecessor. As the trays change shape guided by computer-enhanced modeling, the teeth gradually move.
If you're interested in having a poor bite corrected, the first step is a comprehensive orthodontic examination. This looks closely at not only teeth position, but also jaw function and overall oral and general health.
With that we can help you decide if orthodontics is right for you. If so, we'll formulate a treatment plan that can transform your smile and boost your dental health.
If you would like more information on the cosmetic and health benefits of orthodontics, please contact us or schedule an appointment for a consultation. You can also learn more about this topic by reading the Dear Doctor magazine article "The Magic of Orthodontics."