Posts for tag: gum disease
By Randi C. Lempert, DMD
September 02, 2018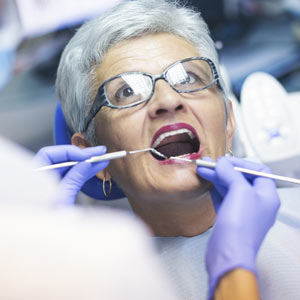 September is National Gum Care Month, an ideal time to talk about how to keep your gums healthy. Unfortunately, nearly half of adults have gum disease, which can damage the soft tissue and bone supporting the teeth. In fact, advanced gum disease is the number one reason for tooth loss among adults, and it's associated with other health problems, including cardiovascular disease, diabetes and pregnancy complications. But there's good news—gum disease is preventable and, in its early stages, even reversible. Here are some tips for taking care of your gums:
Keep up a good oral hygiene routine
Gum disease begins with plaque buildup, so attack the plaque in your mouth with good dental hygiene. Spend two minutes morning and night brushing all surfaces of your teeth, and floss once a day to get rid of plaque that forms between teeth.
Use a soft toothbrush
The American Dental Association recommends brushing gently with a soft toothbrush. Hard bristles can damage your gums and cause them to pull away from the teeth.
Swish with a mouth rinse
Consider using a mouth rinse. Over-the-counter and prescription oral rinses are available to help wash away food debris, reduce plaque and fight gum inflammation.
Say no to tobacco
Smoking is one of the biggest risk factors for developing gum disease. And it's not just cigarettes but all forms of tobacco, including e-cigarettes, pipes and chewing tobacco, that raise your risk of gum disease.
Eat a healthy diet
For the best gum health, avoid refined carbohydrates (sugary and starchy foods) and make sure you are getting enough vitamin C, vitamin D and antioxidants (found in berries and green tea, for example). In addition, studies suggest that a diet rich in omega-3 fatty acids may reduce your risk of gum disease and other inflammatory conditions. These healthy fats are found in many fish, nuts, seeds, soy products and vegetable oils.
Come in for regular cleanings
Professional dental cleanings can remove plaque from the tiny spaces that are difficult to reach by simply brushing and flossing. And once plaque hardens to form calculus (tartar), it cannot be removed during your regular oral health care routine at home. Further, at the dental office we can detect gum disease in its early stages—and the earlier gum problems are caught, the more easily they can be reversed.
Taking care of your gums will help you put your best smile forward now and in the future. If you have questions about gum health, call the office or schedule a consultation.
By Randi C. Lempert, DMD
May 05, 2018
If you've just received a dental implant restoration, congratulations! This proven smile-changer is not only life-like, it's also durable: more than 95% of implants survive at least 10 years. But beware: periodontal (gum) disease could derail that longevity.
Gum disease is triggered by dental plaque, a thin film of bacteria and food particles that builds up on teeth. Left untreated the infection weakens gum attachment to teeth and causes supporting bone loss, eventually leading to possible tooth loss. Something similar holds true for an implant: although the implant itself can't be affected by disease, the gums and bone that support it can. And just as a tooth can be lost, so can an implant.
Gum disease affecting an implant is called peri-implantitis ("peri"–around; implant "itis"–inflammation). Usually beginning with the surface tissues, the infection can advance (quite rapidly) below the gum line to eventually weaken the bone in which the implant has become integrated (a process known as osseointegration). As the bone deteriorates, the implant loses the secure hold created through osseointegration and may eventually give way.
As in other cases of gum disease, the sooner we detect peri-implantitis the better our chances of preserving the implant. That's why at the first signs of a gum infection—swollen, reddened or bleeding gums—you should contact us at once for an appointment.
If you indeed have peri-implantitis, we'll manually identify and remove all plaque and calculus (tartar) fueling the infection, which might also require surgical access to deeper plaque deposits. We may also need to decontaminate microscopic ridges found on the implant surface. These are typically added by the implant manufacturer to boost osseointegration, but in the face of a gum infection they can become havens for disease-causing bacteria to grow and hide.
Of course, the best way to treat peri-implantitis is to attempt to prevent it through daily brushing and flossing, and at least twice a year (or more, if we recommend it) dental visits for thorough cleanings and checkups. Keeping its supporting tissues disease-free will boost your implant's chances for a long and useful life.
If you would like more information on caring for your dental implants, please contact us or schedule an appointment for a consultation. You can also learn more about this topic by reading the Dear Doctor magazine article "Gum Disease can Cause Dental Implant Failure."
By Randi C. Lempert, DMD
December 15, 2017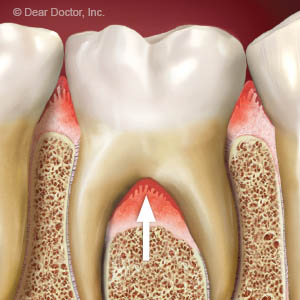 Periodontal (gum) disease causes more than simple gum swelling—this bacterial infection can harm and destroy your teeth's supporting structures, including the bone. Its aggressiveness sometimes requires equally aggressive treatment.
Gum disease usually begins with dental plaque, a thin film of bacteria and food particles on tooth and gum surfaces. Without proper oral hygiene plaque builds up with large populations of bacteria that can trigger an infection.
The growth of this disease is often "silent," meaning it may initially show no symptoms. If it does, it will normally be reddened, swollen and/or bleeding gums, and sometimes pain. A loose tooth is often a late sign the disease has severely damaged the gum ligaments and supporting bone, making tooth loss a distinct possibility.
If you're diagnosed with gum disease, there is one primary treatment strategy—remove all detected plaque and calculus (tartar) from tooth and gum surfaces. This can take several sessions because as the gums begin responding to treatment and are less inflamed, more plaque and calculus may be discovered.
Plaque removal can involve various techniques depending on the depth of the infection within the gums. For surfaces above or just below the gum line, we often use a technique called scaling: manually removing plaque and calculus with specialized instruments called scalers. If the infection has progressed well below the gum line we may also use root planing, a technique for "shaving" plaque from root surfaces.
Once infection reaches these deeper levels it's often difficult to access. Getting to it may require a surgical procedure known as flap surgery. We make incisions in the gums to form what looks like the flap of an envelope. By retracting this "flap" we can then access the root area of the tooth. After thoroughly cleansing the area of infection, we can do regenerative procedures to regain lost attachment. Then we suture the flap of gum tissue back into place.
Whatever its stage of development, it's important to begin treatment of gum disease as soon as it's detected. The earlier we can arrest its spread, the less likely we'll need to employ these more invasive procedures. If you see any signs of gum disease as mentioned before, contact us as soon as possible for a full examination.
If you would like more information on preventing and treating gum disease, please contact us or schedule an appointment for a consultation. You can also learn more about this topic by reading the Dear Doctor magazine article "Treating Difficult Areas of Periodontal Disease."